Breakfast Loaf
11 Aug 2015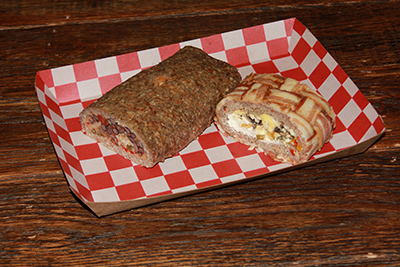 1 lb. thin sliced bacon
2 lbs. Dean's Sausage
4 eggs, scrambled
4 oz sliced mushrooms, sautéed
4 oz diced bell peppers, sautéed
4 oz diced onion, sautéed
8oz cream cheese
salt and pepper for taste, optional
Instructions:
On a piece of wax paper, use the bacon to form a weave pattern by intertwining the bacon strips.
On a separate piece of wax paper, spread the Dean's Sausage in a cube shape about a half an inch thick. It should be about the same size as the bacon weave. Once spread, line the cream cheese down the middle of the sausage. Next spread the eggs, mushrooms, peppers and onion.
Carefully roll the sausage beginning with the end closest to you so that you can blend the two edges together. Once you have a roll, line the bacon sheet up against it and roll it across the bacon to enclose the sausage.
Smoke at 250°F for about 2.5 hours.
Credit: Tom Hopf (Back Forty Beer Company) for the recipes.