Cheesy Sriracha and Sausage Dip
11 Aug 2015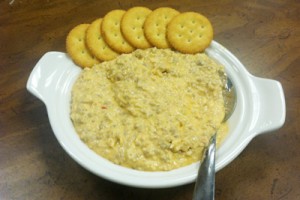 1 lb. Dean's Sausage
6 oz Naked Pig Pale Ale or beer of your choice
4 oz cream cheese
2 C shredded swiss cheese
1/2 C mayonnaise
1/4 C sriracha sauce
Salt and pepper to taste
Cook the sausage in a frying pan until just cooked and add 6 oz of beer, continue cooking on low for another 5 min.
In a mixing bowl, combine the cream cheese, swiss cheese, mayonnaise, and sriracha sauce.
Once the sausage mix is cooled, mix it into the cheese combination. Season the mixture with salt and pepper to taste.
Serve chilled or at room temperature with crackers.
Yields 1 quart.
Comments are closed.