Naked Pig and Dean Sausage Stuffed Jalapeno Peppers
11 Aug 2015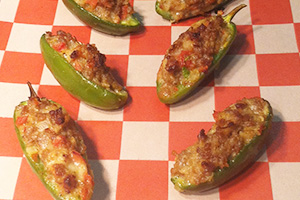 Ingredients:
2 lbs.Deans Hot Sausage
2 medium sweet onions, diced
4 cloves garlic, minced
2 large tomatoes, seeded and diced
~30 jalapenos, cut in half with seeds and pith removed
2 large eggs
3 cups Wright Dairy Alexandria Fontina Cheese, grated
1/2 bottle of Naked Pig Pale Ale
1 T cumin
.5 T coriander
salt and pepper
Instructions:
Preheat oven to 350 degrees.
Begin by browning sauteing the sausage in a large frying pan. Once the sausage has begun to brown, add the onions and garlic and continue to cook for another 2 minutes until you begin to smell the flavor of the garlic. Add the beer, tomatoes, coriander and cumin while cooking the liquid down for about another 10 min. Once reduced, remove from the stove and cool the mixture down for about 10 min. Once the mixture is cooled, fold in the cheese and eggs to hold the stuffing together. Fill each jalapeno with the mixture.
Grease a baking pan and line the stuffed peppers up with a little space between each. Bake them at 350F for about 20 min, or until you begin to see the mixture bubbling.
Allow to cool and enjoy at your next gathering with friends and a Naked Pig!
Comments are closed.