Stuffed Pork Loin
19 Nov 2015
Ingredients:
3 lb. Pork Loin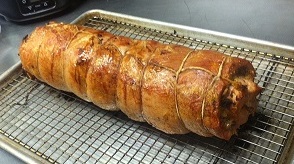 Deans Sausage Stuffing Recipe
Butchers Twine
Salt and Pepper
Instructions
Preheat oven to 375°F.
Clean any unwanted fat and silver skin from your pork loin. Place pork loin on a cutting board facing you perpendicularly and top side down. Beginning at the far end, start cutting the pork about ½ inch from the cutting board continuing down the length of the loin. Carefully roll the pork out like a carpet being careful to keep the cut even against the cutting board.
Once your pork loin is cut, flip it over and dust it with salt and pepper. Flip it back over and evenly spread your stuffing mixture across the pork leaving the sides for enclosing the stuffing.
Rotating the pork parallel to yourself, begin rolling the pork closed keeping it tight, but not so tight that the stuffing pushes out. Once you have it rolled, we will want to secure it with butchers twine. The following is a great youtube video instructing you how to tie your meat securely. https://www.youtube.com/watch?v=rFIwbUBiRSE
Place on a baking rack and in the oven and bake for roughly 90 min. or until your internal temperature reaches 160°F. Let the loin cool for 10 min. before slicing and enjoy as an entrée or on a sandwich along with a Truck Stop Honey Brown Ale.